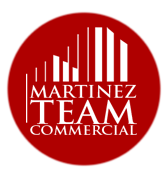 Buyer & Seller representation, Tenant & Landlord representation for the sales & leasing of Office, Industrial, Retail, Multi-family ​Land & Investment Properties.
​The Martinez Team, Broward's premier, local commercial real estate team, was established in 2002 and we currently engage in leasing and sales of office, industrial, retail, multi-family, land, and investment properties. Serving both tenants and landlords is a highly knowledgeable staff of Broward's top agents and brokers whose understanding of real estate opportunities is unequaled. Not only are these agents among the top producers, achieving the highest volumes in the county, but they are experienced and seasoned professionals who are active participants in a number of the major industry organizations. We know Broward County like our own backyard, having completed more than 500 requirements in excess of 2 million square feet of space. The expertise, experience, and judgment of our professionals set Martinez team apart. The practice each and every day of integrity and the pursuit of excellence continues to be a part of our mission and the foundation of our client relationships.

Different by design
KW Commercial takes a different approach to real estate, one that is built on personal touches, win-win deals and positive results. When you engage KW Commercial, you aren't simply hiring a broker; you're hiring an entire company and a network of professionals across North America. We utilize the latest technologies, market research and business strategies to exceed your expectations. More importantly, we listen and that means we find solutions that are tailored to you.